How indian brands are going bananas over the Rahul Bose Moment and it's hilarious.
7th is surprising in the list. Check out the banana hilarious post.
#RahulBoseMoment
We all have been in a situation where we had to pay an exorbitant price for particular goods or services that were definitely not worth the price. So when popular Bollywood actor Rahul Bose shared a picture of the price that he was charged for two bananas at a 5-star restaurant, on his Instagram account, the internet went into a meltdown. After all, in today's world of competitive pricing, the price of ₹442 for two bananas seemed to be too absurd. It struck a chord with everyone and brought to notice absurd prices we have to pay for luxury good, which most of the times are not even worth the price.
The hashtag #RahulBoseMoment was trending on twitter for days and brands saw this as a golden opportunity to promote the better quality services and products that they offer at a much lower price. This resulted in a series of memorable and creative posts from the top brands in the country. Let's take a look at some of the most hilarious posts from brands on the #RahulBoseMoment.
1. Pizza Hut Banana Post:
Pizza hut shared a creative post that said a person has be bananas to choose overpriced fruit over their delicious pizzas that only start at ₹99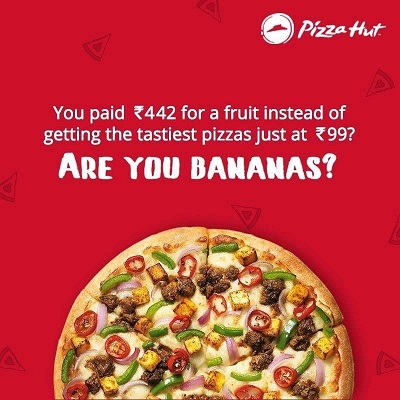 2. Nature's Basket:
Nature's basket shared a witty tweet with its followers that said that since their bananas are available at only ₹14, there's no reason to say no to the bananas available on the popular grocery shopping website.
3. Zomato :
Zomato, which is very well known for sharing witty and creative posts on trending topics, jumped on the #RahulBoseMoment trend as well. Zomato shared a post that said that their banana milkshake and banana split ice cream together costs much less than the bananas at J W Marriot. They further said that people can find more pocket-friendly options on Zomato.
4. Arre:
Arre shared the post hilarious tweet that poked fun at both JW Marriott and PVR (which is infamous for selling over price movie snacks at their theatres). It further said that these are the moments when the bill gives a customer the chills.
5. Amazon prime video:
Amazon prime video shared a creative post on their social media accounts which highlighted the list of things you can get at ₹442 if you subscribe to Amazon Prime.
6. Reliance Smart:
The reliance Smart twitter account shared a funny post with its followers saying that while people are going bananas over the cost of bananas on the internet right now, the prices of bananas of available at their stores will make their customers go ga ga with happiness. They emphasised this message by posting a creative image that showed the number of bananas that one can buy at a Reliance Smart store for ₹442.
7. Policybazzar Banana Post:
Policybazzar shared a cheeky post with its followers that asked them to financially secure their families after they pass at the price of 2 bananas. They further depicted that the price of their insurance policies is the same as the cost of 2 bananas, urging their followers to choose wisely.  
8. Ola:
The ride-hailing app Ola, cashed on this trend by the tweet that their premium services don't cost much as two bananas. In a creative image shared by Ola, they further said that after using their services, customers won't go bananas.
9. Manforce Condoms:
Manforce shared a creative and socially relevant message that not only left their followers in splits but educated them as well. The condom brand tweeted that one cant put a price on safety.
10. OYO:
The online hotel booking company OYO shared a creative post on its social media accounts boasting that while people are buying bananas for ₹442, they have been selling rooms at the same price. They also asked their followers not to slip up when they can get a whole room at the price of two bananas.
11. Zostel:
Similar to OYO, even Zostel banked on this trend by tweeting that their customers can enjoy a night's stay, WiFi, AC, games as well as 2 bananas for ₹442.
12. Mother Dairy Banana Post:
The ice-cream brand Mother Dairy shared a creative message with its followers, saying that if they want to satisfy their craving for fruit, they should opt for a Mother Dairy ice cream at just ₹25 each and as to avoid a #RahulBoseMoment.
13. Oberoi mall:
Oberoi mall made use of emojis to tweet a creative post to its followers saying a burger, some chicken and a doughnut would cost you less than two bananas
14. Cello:
The pen company Cello tweeted out that their customers can buy 22 Cello pens at the cost of two bananas in a creative message
15. Western Railway:
Western Railway cleverly used the #RahulBoseMoment trend to promote their services that can take you to many tourist spots at the price of two bananas.
16. The Park Bangalore:
The 5-star hotel the Park which is based in Bangalore took shots at J W Marriot by sharing a hilarious post saying that their hotel serves complimentary bananas at their spas
17. Quick Ride Banana Post:
Quick ride, a carpooling service shared a creative post with their followers, highlighting that they can travel for one whole week at ₹442 with Quick ride. The company further said that this was indeed a "peeling offer"  
18. Baskin and Robins:
Since #TheRahulBoseMoment definitely got the netizens in splits, the ice cream brand Baskin and Robin tweeted out a creative post to its followers that said that they could enjoy banana split ice cream from Baskin and Robins at prices that will definitely not make them laugh out loud.
19. Pan Parag:
The pan masala brand Pan Parag tweeted a creative message to its followers asking them not to go bananas in the search for freshness and buy Pan Parag instead
20. Yeti Refrigerators:
Yeti had a hilarious take on the #RahulBoseMoment saying that if a customer has brought expensive fruits, they should prevent them from rotting by using their moisture control refrigerators.
21. Gits:
Gits assured its customers that they have got them covered when restaurant prices drive them bananas in a creative social media post.
22. Finn Cosmeceuticals:
Finn cosmeceuticals promoted their Lipsense lip cream in a creative post that compared lip care with bananas and said that lip care was less expensive.
23.The yellow straw
Banana Post:
The yellow straw which is a juice shop shared a hilarious post with their followers that said that bananas should only be used to make juices and not to trick people.
24. Taj Mumbai:
The five-star hotel, Taj Mumbai which is a stiff rival of J W Marriot clearly made the most of the #RahulBoseMoment trend by serving their customers complimentary fresh fruits.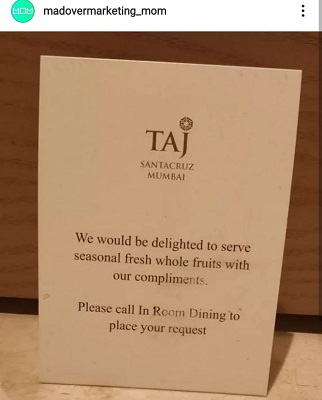 25. Dish TV:
Dish TV also jumped on the trend and shared a creative post on their social media platforms asking their customers to choose their low priced entertainment packs over two overpriced bananas.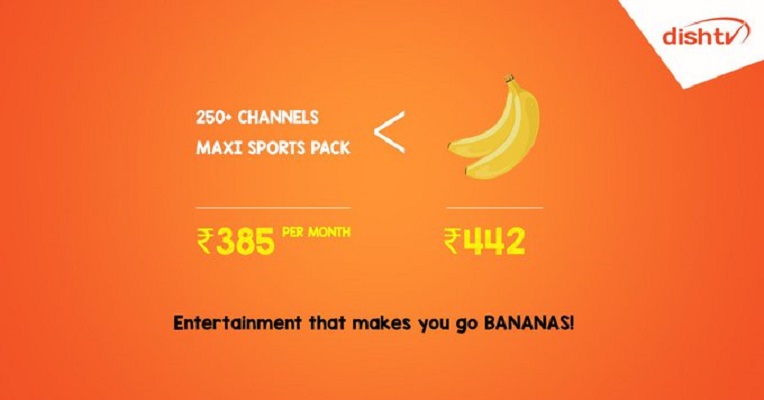 26. The Bangalore Café:
The Bangalore Café tweeted that two banana sundaes served at their café cost less than the two bananas. They further made creative use of bananas by turning them into brackets.
27. Wishes and Blessings:
The NGO Wishes and Blessings asked their followers to choose to give 36 meals to an underprivileged child by joining their daily meals programme over two over priced bananas
28. The House
Banana Post:
The house shared a creative post with its followers reminding them that the wine served at their pub costs less than bananas hence customers don't need any other reason to be there
29. Quicqo:
Quicqo tweeted that their followers can consult a dietician at the price that is less than the price of two bananas in a creative tweet.
30. Syska LED:
Syska LED shared a creative message via twitter with its followers that said 8 LED bulbs cost less than two bananas at ₹442.