How Indian Brands Celebrated Independent Day On Social Media
The Indian Independence day which falls on 15th August every year is not a mere national holiday in the minds of the citizens of India. It is a day that celebrates love, joy and tremendous pride that we have for our motherland. It is a reminder for every Indian that our country witnessed the dawn of a new era that day. The topmost brands in the country took to twitter to celebrate this moment with their customers. They shared emotional and humorous posts with their followers that touched the patriotism in their hearts. These posts not only promoted the brands but also celebrated the Indian spirit. Let's take a look at some of the most beautiful and creative messages that were shared by brands over the years on 15th August.
1. Amul India:
Amul is very well known for sharing posts that are not only witty and heart touching but also very creative. It was no different on the occasion of Independence Day as well when Amul shared creative images with their customers. The first image depicted a glass of milk saluting the Indian flag with reverence. The second post is very creative and shows two of Amul's very popular products, Orange ice candy and Pista Koolfi holding the Indian tricolour. The third image showed the iconic Amul girl eating bread with butter with the tagline that reminded Amul's customers that Amul is indeed the taste of India and the brand is for each and every Indian
2. Godrej:
On the occasion of Independence Day, the popular brand Godrej reminded their customers to celebrate the biggest freedom i.e. Freedom from safety fears. The company that is famous for its locks shared this creative post with its followers.
3. Shopclues:
Shopclues celebrated 15th August with their customers by sharing a creative post which included a hashtag that read #FREEDOMTOLOOKGOOD. The brand urged its followers to share their patriotic looks to win Cluesbucks that can be used to shop on the Shopclues website.
4. Paytm:
Paytm which a popular Digi money app shared a contest with their customers. This contest was creatively named "Freedom of words" and had their followers solve a particular crossword and win prizes. Paytm also promoted their Independence day sale with the post as well.
5. BSNL:
On the occasion of Independence day, BSNL shared a creative message that promoted their "freedom packs" with their customers. BSNL conveyed the message that their customers always have the freedom to choose from their various packs and enjoy in an unlimited way through this post
6. Ariel:
Ariel asked its customers to free themselves from tough stains and celebarted the spirit of Independence day
7. Domino's Pizza:
The popular Pizza brand Domino's celebrated Independence day with their customers by asking them to upload a selfie wearing Saffron, white and green, the colours of the Indian flag. They further said that they would select the best 68 pictures and make a unique rendition of the Indian flag. Domino's used the creative hashtag #MyFlagMyPride to promote their cause.
8. Makemytrip:
The popular online travel portal Makemytrip asked its customers to celebrate the freedom from routine in a creatively put together post. The company also said that they have brought amazing deals on flights, hotels and Holidays in the social media post.
9. Durex:
Durex is always known for its social media posts that are hilarious and socially relevant. This independence day Durex shared a creative post with its followers with the message that with freedom comes responsibility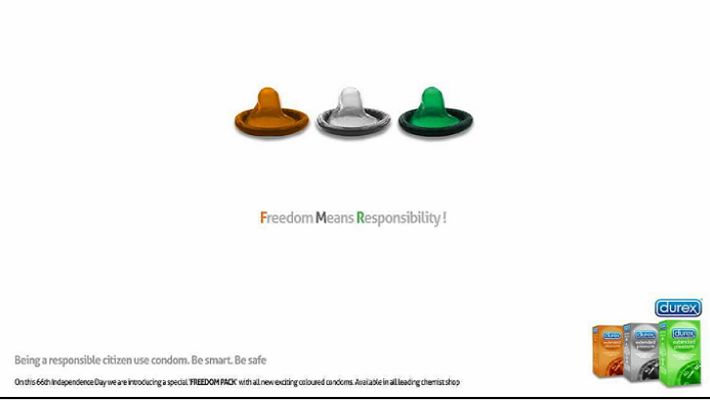 10. MobiKwik:
MobiKwik partnered with Makemytrip to share the message that travel is instant freedom and can be compared to a cashless transaction with its followers in a creative tweet
11. Paytm:
On the occasion of Independence day, Paytm shared a creative and heart-warming social media post urging their users to contribute to the welfare of the brave soldiers and their familes.
12. Times points:
Times points which offer unique reward programs in collaboration with the Times network shared a creative social media post that had a play on the word "Independence day". They wished their customers happy "Indespendence day" instead of a happy Independence day.
13. Lenskart:
In an amazing initiative, Lenskart shared social media posts about various Indian icons who might have been forgotten by history on the occasion of Independence day.
14. Flipkart:
The e-commerce giant Flipkart shared a  creative social media post with its followers that depicted iconic Indian things in the shape of their logo to celebrate 15th August. Flipkart further urged its followers to celebrate India in each of us.  
15. Ola:
The popular cab aggregator Ola shared creative social media posts about their new initiative that incorporates ex-servicemen who are now a part of Ola as driver-partners on the occasion of Independence day. In another similar post shared by the company, it urged its followers to send a message to a soldier with the hashtag #SainikKoSandesh on 15th August