Digital Marketing Service For Sports Shop
The sports industry is growing rapidly in India. Boxing, cricket, badminton, tennis, and football are some of the most played sports in India. The scope for choosing a sport as a career option is rising. Many Indian youngsters walk into the world of sport with a dream to achieve something for their country. You are helping youngsters to achieve their dream if you are running your own sports shop where youngsters can buy their sports materials.
But do you know that marketing of your sports shop with traditional marketing mediums like newspaper, hoarding, and pamphlets is not enough to market your sports shop? Due to increasing use of internet in India, you need a stronger marketing medium to market your sports shop. And that efficient marketing medium is digital marketing service for sports shop.
What Is Digital Marketing And How Will It Market Your Sports Shop?
The product which you buy from an online e-commerce store, The ads which you see on Facebook, any information that you get from Google by just one click comes from digital marketing. Basically, digital marketing is an efficient way to promote goods and services on online platforms like Google and social media sites. You can promote your sports shop on Google where sports passionate people can easily find you with just one click. Promoting your sports shop on social media sites like Facebook, Instagram, and Twitter can create brand value in the minds of people. The most important benefit of digital marketing is not only to market your sports shop digitally but also you can get proper insights from your digital marketing campaign which you won't get in traditional marketing.
How Digital Marketing Works?
Digital marketing functions on the basis of 3 techniques. We at DigiManic, use these 3 techniques to provide you with best digital marketing service for sports shop. Those techniques are:
Digital Marketing For
Sports Shop
Search Engine Optimization (SEO)
Digital Marketing Consultation
Let's understand how we can form an efficient digital marketing strategy with help of these above techniques.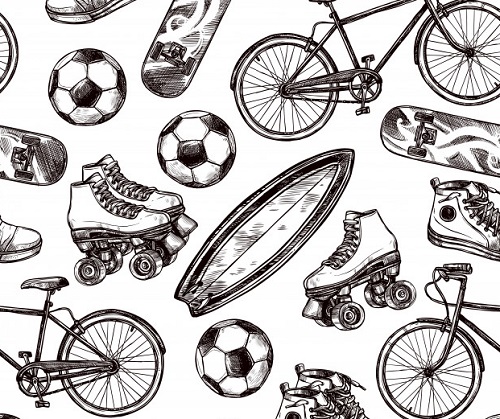 Social Media Marketing: The Brand Creation Medium
Facebook, Instagram, and Twitter comes to our mind when we hear about social media. It is because these social media sites have become influential in India in such a way that Indians spend most of their time on social media sites. Therefore social media is a brand creation medium. With help of Facebook paid ads, you can target consumers as per their age, gender, profession, and demography. For example, you can target people between the age group of 21 to 30. After targeting right consumers and running Facebook paid ads for 1 or more day, you can get the whole insight your ads performance. So social media marketing helps you to create brand awareness, brand recognition, brand loyalty, and brand recall value.Social media marketing service for sports shop will help you to achieve all your goals.

Search Engine Marketing: The Attention Grabber
If you want to market your sports shop very aggressively to only potential consumers then SEM is for you. Search engine marketing is the paid form of online marketing of goods and services on Google. These paid ads, if run with an effective SEM strategy can bring your website to the top of Google. Effective SEM strategy means creating good quality ads with competitive budget. The reason why we call SEM the attention grabber is that paid ads grab the attention of consumers with creative tagline and description. For example, if you give offer any discount or new sports material, you can show it in your paid ads on Google. The other advantage of SEM is that you can target right consumers as per their age, gender, location, and demography at the right time. For example, You can target sports passionate between the age group of 14 to 20 in Mumbai in their summer vacation. SEM service for sports shop gives you benefits like an increase in brand awareness, quality traffic, brand visibility, and better ROI (Return On Investment).
Search Engine Optimization: The Free Form Of Marketing
With 462 million active users available in India, everybody searches everything on Google. Then let it be a sports shop, it is very important for your website to be seen among the internet users and if your website doesn't show up on Google on its first page then you need SEO. Search engine optimization is the free form of online marketing technique to bring the website to the top of Google. Ranking of a website is determined on the basis of search engine guidelines of Google. If the content of your website gives what a user is actually searching for, then Google will rank your website to the top. SEO is beneficial for you especially when you have multiple kinds of sports products. Effective SEO can help you in increasing the brand visibility, brand awareness, constant attention, and website traffic. With the help of our SEO service for sports shop, you can get historical data with regards to how many users have visited your website, which age group of users has shown interest in your website, and for how much time they have stayed on your website. You can know your consumers with such data in a more deep way.
You can consult with us to know more about our digital marketing service for sports shop.