International Men's Day: How Indian Brands Are Celebrating Men's Day
A man is a creation of nature blend with some gentleness, understanding, and love. However, the majority of people have confined it into certain traits that they look in a man, such as being fearless, robust, assertive, and always an in-charge of something. However, today's men are more than just some masculine norms, and as American Writer Elbert Hubbard once said: "THE STRONGER A MAN IS, THE MORE GENTLE HE CAN AFFORD TO BE."
This year we mark 27th International Men's Day celebration and the theme is 'Making a Difference for Men and Boys'. Numerous Indian brands are celebrating this day to build awareness and change social perception. Here is a list of some brands that celebrated International Men's Day in India by promoting the need to value men and boys.
1.  International Men's Day Durex:
Durex is a well-renowned condom brand that started various campaigns  to create awareness about orgasm inequality, bed desires, and more.  This #internationalmensdays Durex emphasized the significance of  transformation from boys to men. This is how Durex wished Inertnational Men's day
2. Social Media Post of Manforce:
Another popular condom brand in India that is known for highlighting  social issues and norms. Last year, their campaign #ShutThePhoneUp  took over the internet like wildfire and requested every couple to not  record their private activities. Like its every other social media post, at international men's day occausion  Manforce appealed to every man to be responsible and use a condom.
3. Ustraa:
Ustraa is a promising brand for men's grooming products and known for providing sulfate and paraben-free products. On this International Men's Day in India, USTRAA used some sarcasm to describe how absent-minded and lazy men are.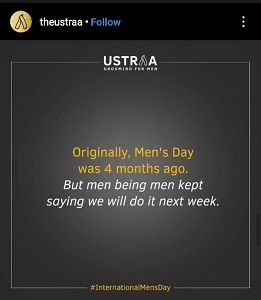 4. MTV Beats:
MTV is an international entertainment channel popular among youths for using music, popular cultural icons, youthfulness, visual elements, and others, to reach the audience. Referencing the movie Bala, they showed how the strength of a man's character is more important than his looks.
5. Radio City:
Radio City is India's first private FM radio station started by Dainik Jagran. On Internationalmensday, Radio city shared a thank you post for all the special men and appreciated their sacrifices for their family and loved ones.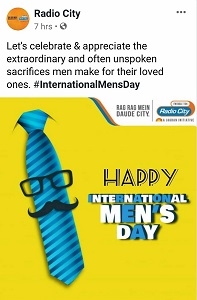 6. International Men's Day Beardo:
Beardo is another well-known men's luxury grooming product brand and its market is booming globally. Here, Beardo celebrated Men's day by cheering all the men around the world and sending out a message that men know what they want.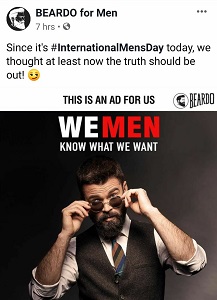 7. Film Companion:
Bollywood plays an important role in influencing people and setting out an image for a perfect man. Unlike some Bollywood heros, real-life men can sometimes be soft, loving, emotional and imperfect. The popular entertainment channel celebrated this day by breaking the stereotypical idea of a man showed in most of the films.
8. Archie Limited:
Archies Limited is a greeting and gifts collection company known for its gift galleries all across India. This year,Archies Limited urged people to appreciate the special men in their lives by gifting them on this Men'sday.
9. International Men's Day Jack & Jones:
Jack & Jones is a man fashion and clothing brand with over 1000 stores across 38 countries worldwide. On this International Men's Day in India, Jack & Jones stated that not all men are the same and asked people about their opinion on the real men.
10. The Man Company:
The company which got tons of attention this year was The Man Company. The grooming company made headlines when TMC shared a video staring actor Ayushmann Khurrana. Bala movie actor delivered a heartfelt poem about bringing out the real gentleman in you. The hard-hitting poem not only busted male stereotyping but also calls out the groups of patriarchy.
Let us celebrate this day as a reminder to understand a man's significance in society. Especially in an Indian Society, this day is an alarm to focus on men's and boy's health, refining gender relations, highlighting gender disparity, male suicide numbers, stopping male abuse, and more. Whether its Men's Day or Women's day, these days are breaking all types of stereotypical norms and dichotomies, however, there are still more to go.